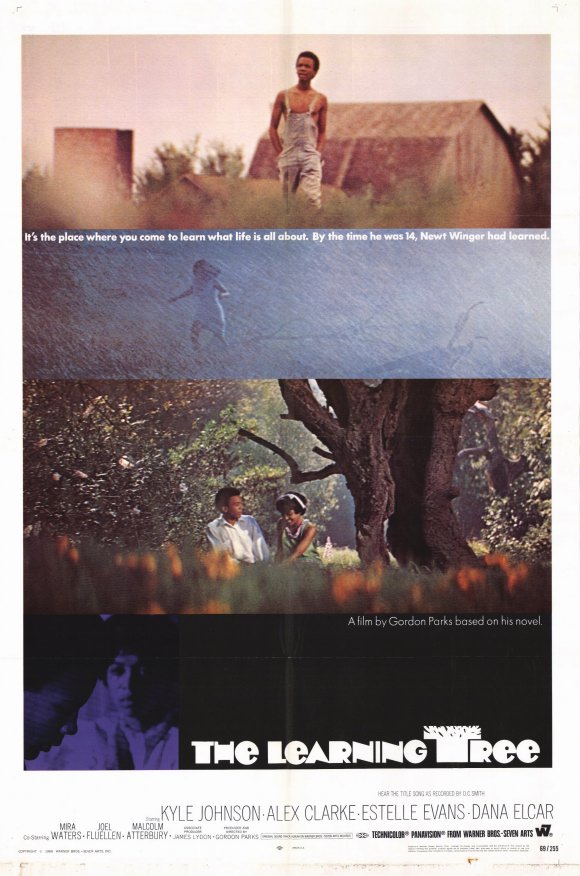 The appearance of a biracial man in the Oval Office (two-terms!) sadly hasn't simmer down racial strife in the country since the Emancipation Proclamation was signed. That, along with recent fatal shootings involving African-American men and police officers, shows that society has a long way to go. One film perfectly notes that: the film version of Gordon Parks's partially biographical, poignant and powerful, coming-of-age tale, "The Learning Tree".

It's an interesting coming-of-age tale because it focuses on two African-American boys, who are quite different: the curious, good-natured and sensitive Newt Winger (Kyle Johnson, son of Nichelle Nichols of "Star Trek: The Original Series") and the volatile, bitter and frustrated Marcus Savage (Alex Clarke, who could have mistaken for a teenage James Earl Jones) try to live and survive in the hamlet of Cherokee Falls, Kansas of the 1920s, which isn't quite the Jim Crow South, but it's not a liberal-minded northern metropolis. The backgrounds of each boy are the basis of their yin and yang personalities. Newt has a stern ranch hand father (Felix Nelson of "The Ballad Of Cable Hogue"), a kind mother (Estelle Evans of "To Kill A Mockingbird") who's the housemaid for the local judge (Russell Thorson of "Hang 'Em High), a wise blind uncle (Joel M. Fluellen of "The Great White Hope"), an ideal big brother (Phillip Roye of "Black Caesar") and a sassy but concerned sister (Saundra Sharp of "Minstrel Man").

Marcus, whose surname sadly fits him, has none of them, save for a booze hound junkyard owner of a father (Richard Ward of "Across 110th St" and "For Pete's Sake"), whose irresponsibility leaves Marcus open to trouble, causing it (he bullies Newt and three other boys into stealing apples from a farmer's land) and attracting it (Dana Elcar, later of "MacGyver", is pretty effective as the motorcycle-riding racist sheriff Kirky), leading to temporary incarceration in a juvenile reformatory and later janitorial work in a shabby bordello. Newt has his conflicts: college aspirations are deterred by a stubbornly bigoted teacher while his first love is sexually deflowered by one of the Judge's two sons, a careless lothario. When a man is killed and another framed by Marcus's father, both boys will come together at a boiling point.

Having the reputation of being a famed photographer for Life magazine, an prose author and a documentary director, Parks (the first two "Shaft" films, "The Super Cops", "Leadbelly") was the perfect candidate to cine-adapt his novel, becoming the first African-American to direct a big studio film (Warner Bros.) "Tree" may come off like an episode of "Little House On The Prairie" meets an episode of "Peyton Place" with its' cornball sentimentality, but the film's perfectly solid with Parks (wrote, produced, directed and composed the film's music score!) at the helm. He even got cinematographer Burnett Gurney (worked on many classic films from Columbia Pictures, including "From Here To Eternity" and "Gidget") to capture the beautiful atmosphere of the countryside. Most of the cast is obviously from the theater and may come off stiff as some points, but it's nice and pleasant to see African-Americans portrayed non-stereotypically. I related to Johnson as Newt, a daydreamer who's trying to find his way in the world by asking questions and sharing his feelings. By doing that, he forces his high school principal and the judge to admit that the system is, for lack of a better word, is screwed up. Marcus reminds me of boys I knew, angry at their predicament and helpless to change, sadly dooming themselves to a tragic fate. Having the boys' opposing characteristics make the film almost like a Sam Peckinpah film (stock actor Dub Taylor has an appearance as shady boxing ring promoter at a local carnival).

Like the book, the film version of "The Learning Tree" should be required in every school, especially if it has African-American students. It's all too important and riveting at this time.
The Learning Tree (1969) - Trailer - Vidéo Dailymotion