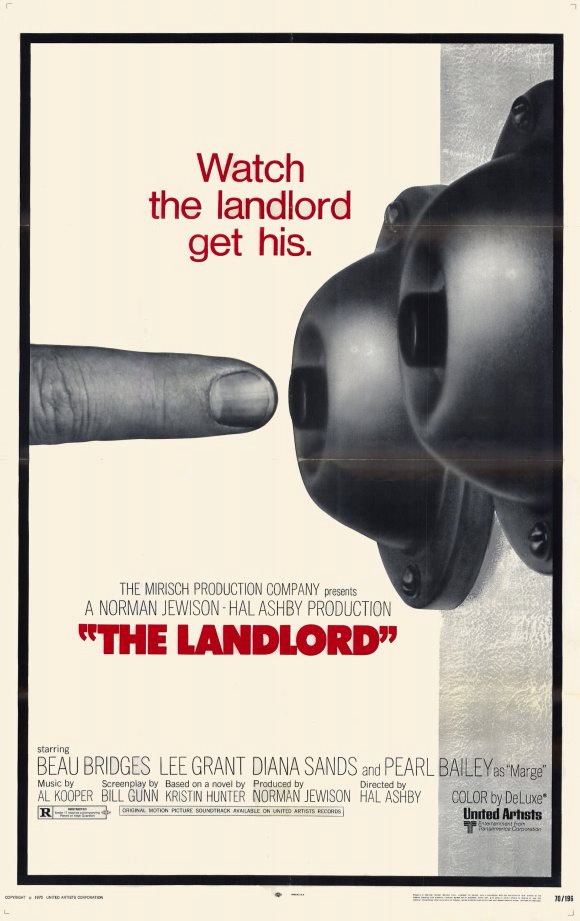 Time's a funny thing. It contains a lot of things, but doesn't always keep track of everything. Moments fall in the cracks. Some moments are forgettable; others shouldn't be. One of the moments is a movie called "The Landlord," an adept, racially-charged and thoughtful satire that makes "Guess Who's Coming to Dinner" looks like "Enchanted April".
Wanting to leave his family's affluent Long Island abode, breezy, twenty-nine-year-old, blue blood Elgar Enders (Beau Bridges of "The Fabulous Baker Boys" and "Jerry Maguire") buys a tenement building in the Park Slope section of Brooklyn and hopes to convert into a rich hippie pad. However, the residents, all poor and African-American, won't (unsurprisingly) abide being relocated, using comical scare tactics or hermetic indifference. Elgar counters by the film's title, earning admiration (Pearl Bailey's delightful as a fortune teller); seduction (Diana Sands's a frustrated housewife/hairdresser; Marki Bey's a strong yet out of place mulatto artist and go-go dance at a nearby nightclub) and scorn (a pre-Oscar winning Louis Gossett Jr. as Sands's militant yet derelict husband; Mel Stewart of "All In The Family" is an unlicensed teacher, who guides the neighborhood children) in the ghetto while infuriating his parents (Walter Brooke and Lee Grant, who earned an Oscar nomination for this gig) to high hell and a half. This is what happens when you put too much cream in your coffee.
Armed with a smart, sharp, funny and poignant script by actor-scribe Bill Gunn (the avant-garde horror film, "Ganja & Hess") that adapted from a now-scarce novel by Kristin Hunter, Hal Ashby ("Shampoo", "Being There", "Harold & Maude", "The Last Detail") made an impressive debut as a maverick director, after editing films for Norman Jewison, who supervised the film's production. With his skills and d.p. Gordon Willis (the Godfather saga, mentored Mike Chapman of "Taxi Driver"), Ashby gives "The Landlord" a funky, gritty, kaleidoscope narrative, complimenting the tale's consciousness. Soliloquies, flashbacks, visual thought balloons are here and cool. It's fascinating and ironic that a white director (despite being middle-age at the time, Ashby was quite the hippie) and a black screenwriter (Gunn was a writer of all trades) worked in sync to examine the racial, social and economical gaps between their ethic camps. There's a flashback scene of Elgar's all-white grade school class; "Children, how do we live?" the teacher asks. It cuts to a black man having the inability to hail a cab. How do we live? How indeed.
None of the cast makes a false step, no matter how big or small their roles. Bridges, obviously scarred by his father being blacklisted in the 1950s, is pitch-perfect as the title character, a naïve, overgrown Little Lord Fauntleroy, thinking racial strife can be achieved by common courtesy without learning why there is in the first place. Ms. Sands, ("A Raisin In The Sun") who sadly passed away three years after the film's release, finds Elgar fascinating (and sexy!) as sassy but delicate Franny, who wallows in the memories of her beauty pageant days. Not because he's rich and white but "socially pure", unlike Gossett ("An Officer and A Gentleman", "Roots"), as Copee, a rightfully angry black man who wants to fight back against the system that broke him but neglects Franny and their son. No wonder the kid smokes and Franny…well, cream and coffee…
Singer Pearl Bailey's a wise hoot as fortune teller Marge, who accepts Elgar's attempts to redeem the building's derelict conditions. Lee Grant (who worked again with Ashby on "Shampoo" and was also blacklisted) is quite the hypocrite as Joyce Elders. She accepts black people…but not too close. When she and Bailey get high and drunk, you'll know why. There's also Marki Bey (the black zombie grindhouse yarn "Sugar Hill") as Elgar's second girl, Lainie, the mixed daughter of divorced parents, who feels the "heat" when she's with Elgar. Unlike Gossett's Copee, Mr. Stewart's more subtle in his animosity toward his landlord. He lays the final blow that makes the rich kid grow up. Straight-forward comical elements are handled by Mr. Brooke as Elgar's father; future sitcom director Will McKenzie as Elgar's brother; Robert Klein ("The Pursuit of Happiness") as Elgar's brother-in-law and Susan Anspach as Elgar's pot-head sister. Through it all, there are neither good nor bad people in the film, just victims of social prejudice and expectations….okay, Joe Madden as Elgar's grandfather, silent, senile and wheelchair, is probably one, a relic of old, good white boy prestige gone to pot. Look out for future Garry Marshall figure Hector Elizondo.
Lively and funky is the music by Al Kooper, the co-founder of the white R&B group, Blood, Sweat & Tears, bookended by two hard, soulful tracks by the Staple Singers.
Ignored by the public upon its release, "The Landlord" has become a holy grail to filmmakers and movie fans. It's also a prophecy; once derelict Park Slope is now a haven for the high-pocketed crowd. Sadly, the social problems still exist, making the film, like the sitcoms of Norman Lear, timeless. It deserves a proper DVD release. Maybe a limited double-bill showing with the recent "Django Unchained"; they both deal with "how we live."